About Our Program
About Our Program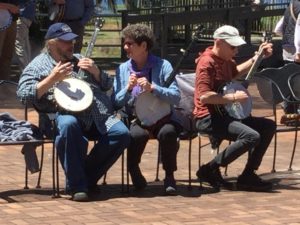 plentifully Suwannee Banjo Camp is devoted to offering serious instruction in old-time and bluegrass music, all taught by outstanding musicians who are also gifted and empathetic teachers. Over the years we have come up with a cadre of instructors who fit the bill, and who go way out of their way to make sure students have every opportunity to learn in a warm, non-judgmental environment.
Suwannee Banjo Camp runs straight through from Thursday mid-afternoon through Sunday lunch. We offer nine class sessions —  five each on Saturday and Sunday — with just under a dozen class options offered per session. Each session is one hour and fifteen minutes long. There are staff concerts on both Friday and Saturday evenings; over the course of the weekend you'll have the opportunity to hear most (and perhaps all) of our staff in concert. Rounding out the program are demonstrations, and staff-led bluegrass and old-time jams conducted at slow, intermediate, and "up-to-speed" skill levels. We also offer jams with a vocals focus. For a full description of aspects of our program, such as classes, concerts, jams and other activities, go back to the Program menu and select the items you are interested in. See below for an overview.
is neurontin an opiate like lortab Classes
For information on our banjo, guitar and fiddle classes go to the Classes page and select the tab for the instrument and style that most interests you.
Orientation
Student Orientation takes place on Thursday evening right after dinner, prior to the start of the Thursday evening activities.
Thursday Evening Activities
On Thursday evening following orientation, we kick off our program with a student open mic and band scramble, in which students can perform as soloists, in groups of their own choosing, or in randomly assigned ensembles (some people call these "band scrambles"). To make the band scramble experience more rewarding, we assign an instructor to serve as coach for each ensemble. The evening concludes with staff-led jams at different levels featuring either old-time or bluegrass music. We also offer jams with a vocals focus.
Demonstrations
"Demos" take place on Friday afternoon. They are presentations or mini-performances combined with explication and Q&A sessions. They are similar to the kind of round-robin events called "workshops" at many Folk and Bluegrass Festivals. Click here for more on Demos.
Faculty Concerts
We have two faculty concerts at SBC — one on Friday and the other on Saturday evening. During the course of SBC you'll have an opportunity to hear our entire staff in concert. To get the idea of what to expect, here is a selection of videos from past SBC Faculty Concerts.
Jams
Staff-led jams at different levels are held following each faculty concert for bluegrass and old-time banjo. We also feature jams for vocalists and other specialized interests.
Schedule
The complete SBC Program schedule listing all classes, demonstrations, concerts, and jams for 2023 has been posted. Check out the schedule here.
This is Our 2022 Faculty
Old-Time Banjo: Riley Baugus, Hilarie Burhans, John Herrmann, Adam Hurt, Michael Miles, Ken Perlman and Maggie Shar
Bluegrass Banjo: Scott Anderson, Greg Cahill, Ryan Cavanaugh, Gina Furtado, James McKinney, and Alan Munde
Fiddle: Pete Vigour (principal instructor); classes will also be taught by John Herrmann and Ellen Vigour
Guitar: Jim Hurst (principal instructor); classes will also be taught by Michael Miles and Alan Munde
Guest Faculty: Susie Coleman, Ellen Vigour
Photos and bios of our staff are posted on the 2023 Instructors page.
Starting and Ending Times for Full Camp and Weekend-Only Option
Check-in for the full Camp Opens at 3:00 PM on Thursday March 16; hands-on classes start promptly at 9:15 AM on Friday March 17. Camp ends following lunch at 1:30 PM, Sunday March 19. Check-in for the Weekend Only Option starts at 11:00 AM Friday, March 17; your first camp meal is dinner (6:00 pm). The program begins about 1:30 pm that afternoon and continues through the morning of Sunday March 19.