**Suwannee Banjo Camp**
Dates for Next Camp: March 21-24, 2019
We'll Start Accepting Reservations for the 2019 Camp in Late August
Here is our 2018 Camp Photo: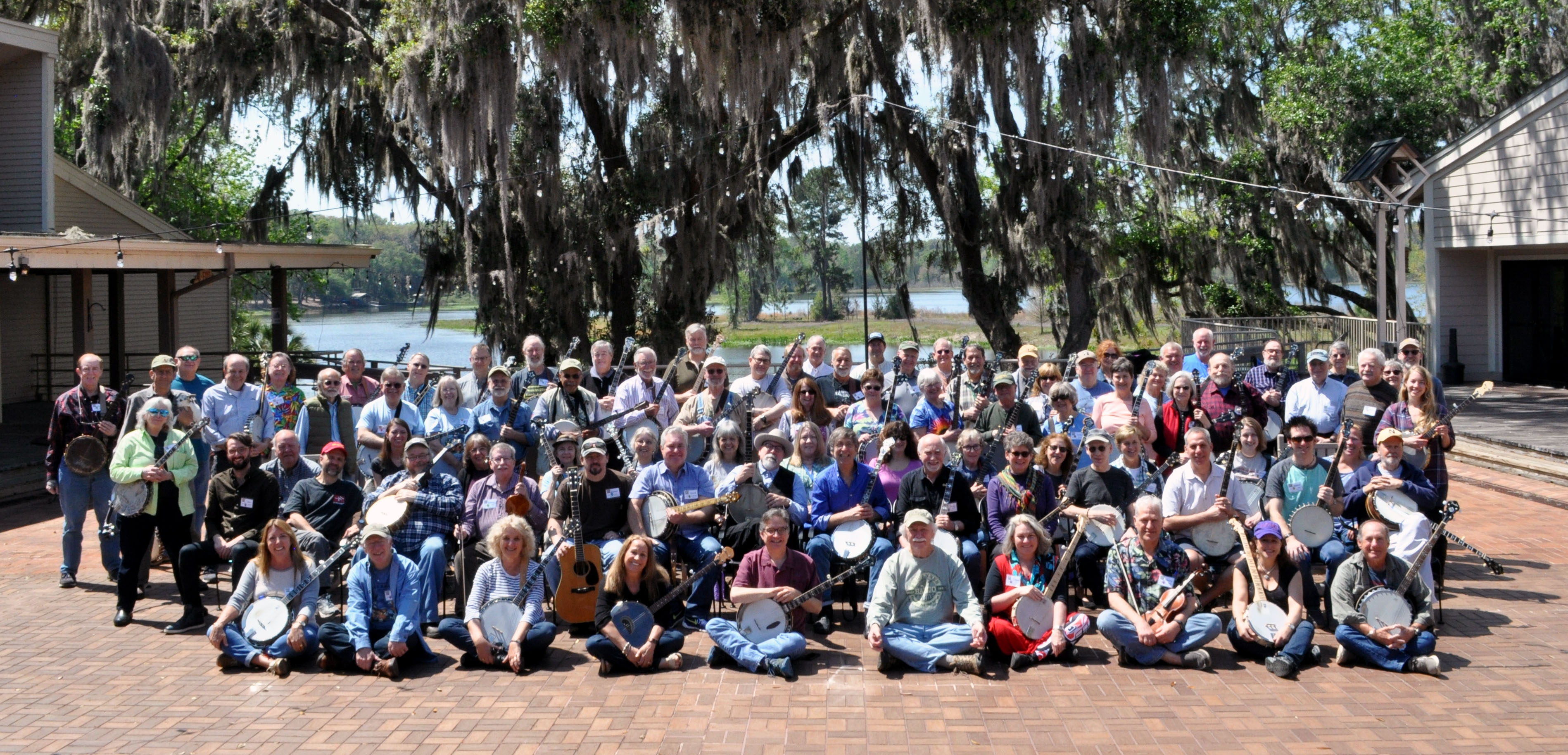 Click to Access & Download a High Res Version of our 2018 Camp Photo, Suitable for Printing
Camp News & Updates
Our next camp takes place March 21-24, 2019; we open for registration in late August.
Meanwhile you can get a sense of our event by browsing this website.
Come study 5-string banjo with some of today's best players and teachers. Our program features hands-on classes, demonstrations, and two big faculty concerts, and still leaves lots of time for jamming with your fellow banjo enthusiasts. SBC offers serious instruction in clawhammer, old-time fingerpicking, and bluegrass banjo styles.
Note: Clawhammer and old-time fingerpicking together are often referred to as old-time banjo.
Our Format
Suwannee Banjo Camp now runs straight through from Thursday afternoon to Sunday afternoon. We now offer nine class sessions — three on Friday, four on Saturday and two on Sunday. Each session is one hour and fifteen minutes long. There are staff concerts on both Friday and Saturday evenings; over the course of the weekend you'll have the opportunity to hear our entire staff in concert. Rounding out the program are "demonstrations," presentations, and staff-led bluegrass and old-time jams conducted at a variety of skill levels. See below for more details.
Can I Still Attend Suwannee Banjo Camp Just from Friday to Sunday? (The Weekend-Only Option)
Yes, you can. You can still enjoy SBC even if you can't take an extra day off. Our Weekend-Only Option begins with the first class Friday afternoon. Included are seven hands-on classes and all meals from Friday dinner through Sunday lunch. Also included are the two faculty concerts, staff-led jams on Friday and Saturday evenings, and demonstrations on Friday afternoon. Rates for the weekend-only option appear on the "Registration" page.
New Method for Reserving Lodging!
In the past students paid for lodging when they signed up for tuition and meals. Beginning this year, you must reserve and pay for your lodging directly through our host, Cerveny Conference Center. Here's the procedure. First register for camp. We then send you an acknowledgement email, which also  contains a Cerveny Lodging Link. Use this link to reserve and pay for you on-site lodging.  You have a choice of single and double occupancy guest rooms, RV sites, cabin bunks, or tent camping (see the lodging and reservation pages for more details). You will also have the opportunity to specify roommates, ask for handicapped friendly rooms, etc.
Fiddle & Guitar Tracks
SBC offers full-time tracks in fiddle and guitar! For more information, click on the Classes menu item.
Location
Suwannee Banjo Camp takes place at beautiful Cerveny Conference Center in Live Oak, Florida. For more info, click on the "Our New Location" menu item, or visit the Cerveny Conference Center website.
Class Sessions
SBC offers nine class sessions over the course of the weekend — three on Friday, four on Saturday and two on Sunday. Each session is one hour and fifteen minutes long.
Orientation
Student Orientation takes place on Thursday evening right after dinner, prior to the start of the Thursday evening activities.
Thursday Evening Activities
On Thursday evening following Orientation, we kick off our program with a student open mic and band scramble, in which students can perform as soloists, in groups of their own choosing, or in randomly assigned ensembles (some people call these "band scrambles"). To make the band scramble experience more rewarding, we assign an instructor to serve as coach for each ensemble. The evening concludes with staff-led jams at different levels featuring either old-time or bluegrass music. We usually also offer jams with a vocals focus.
Demonstrations
"Demos" take place on Friday afternoon. They are presentations or mini-performances combined with explication and Q&A sessions. They are similar to the kind of round-robin events called "workshops" at many Folk and Bluegrass Festivals.
Why attend Demonstrations? Although there's no hands-on instruction, demonstrations offer a valuable learning experience. By watching our instructors play in the demos, and listening to their explanatory remarks and verbal interchanges, you get a strong sense not only of the state of the field, but also of the history of bluegrass and old-time music. What's more, observing the instructors in action is a great way to discover whose styles you are most attracted to, and whose methods of presentation suit you best.
Faculty Concerts
We have two faculty concerts at SBC — one on Friday and the other on Saturday evening. During the course of SBC you'll have an opportunity to hear our entire staff in concert. To get the idea of what to expect, here is a selection of videos from past SBC Faculty Concerts.
Jams
Staff-led jams at different levels are held following each faculty concert for bluegrass and old-time banjo. We also feature jams for vocalists and other specialized interests.
Our 2019 Faculty
Old-Time Banjo: Paul Brown, Adam Hurt, Terri McMurray, Michael Miles, Joe Newberry, & Ken Perlman
Bluegrass Banjo: Scott Anderson, Ryan Cavanaugh, Bill Evans, Casey Henry, James McKinney, & Alan Munde
Other Instruments: Jim Hurst (bluegrass guitar); Our Old-time fiddle instructor is TBA
Guest Faculty: Susie Coleman, Niki Portmann and more TBA
Photos and bios of our staff are posted on the Instructors page.
Starting and Ending Times
Check-in for the full Camp Opens at 3:00 PM on Thursday March 21; hands-on classes start promptly at 9:15 AM on Friday March 22. Camp ends following lunch at 1:30 PM, Sunday March 24.
Start Time for the Weekend-Only Option
Check-in for the Weekend Only Option starts at 11:00 AM Friday, March 22; your first camp meal is dinner (6:00 pm). The program begins about 1:30 pm that afternoon and continues through the morning of Sunday March 24.