Concerts, Demonstrations & Jams
Concerts
Demonstrations
Jams
There are two faculty concerts at SBC – one on Friday and the other on Saturday evening. About half the faculty performs each evening, so by the end of Camp you will have had a chance to hear our entire staff in concert. If you are a fan of bluegrass music, old-time music, or simply old-fashioned musical virtuosity and good taste, our concerts are simply not to be missed. Many students have told us that the concerts alone are worth the price of admission.
There are a couple of performance samples on this page; to hear more check out our Suwannee Banjo Camp Youtube Archive.
Register Online Today!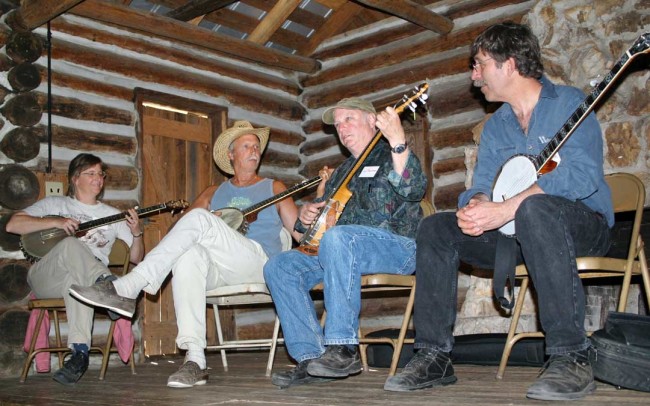 Demos
On Friday afternoon, we offer an entire class-session that is devoted to demonstrations, or demos. Demos are essentially presentations or mini-performances combined with explication and Q&A sessions. They are similar to the kind of round-robin events called "workshops" at many Folk or Bluegrass Festivals. Following are a few examples of the kinds of demos we might offer:
Old-time finger picking styles
Singing with the Banjo
Alternative Tunings
Banjo-Fiddle duets
All Scruggs All the Time
Tips on Playing in a Band
Jazz & Swing on Banjo, 3-finger Style
Fiddle Tunes on Banjo
Why attend Demonstrations? Although there's no hands-on instruction, demonstrations offer a valuable learning experience. By watching our instructors play in the demos, and listening to their explanatory remarks and verbal interchanges, you get a strong sense not only of the state of the field, but also of the history of bluegrass and old-time music. What's more, observing the instructors in action is a great way to discover whose styles you are most attracted to, and whose methods of presentation suit you best.
Register Online Today!
Jamming
Creating successful jams in a camp with so many banjoists takes skill and planning. To make things run as smooth as possible, we have Camp fiddlers, guitarists and a number of other guest musicians on hand to assist at our various scheduled jams. Then we try to fulfill your preferences by offering various jamming options:
Slow jams for relatively inexperienced players (and for others who prefer relaxed tempos)
Intermediate jams: well-known tunes at moderate tempos.
Regular Jams: for the slightly more adventurous. Instructors will may push tempos a little and suggest somewhat more demanding tunes, depending on the skill level of attendees
Vocalists jams: for folks who like to sing and pick at the same time!!
Pete Seeger Style "Hootenanny": Participants go around the circle, each in turn sings a song (solo or with group participation) or tells a story; contributions can reflect on Seeger's legacy or simply be personal
Register Online Today!